These are the steps you would follow if you wanted to change the displayed country name when Salesforce State and Country/Territory picklists are disabled.
It is possible to override or translate all the application's labels and messages using the Salesforce Custom Labels feature.
Are you using State and Country/Territory Picklists?
Enable Translation Workbench
First you must enable the Translation Workbench for at least one language:
Go to the Setup screen and type Translation Workbench in the Quick Find box and select Translation Language Settings.
Click the Enable button to turn the workbench on.
Then add the language(s) required, including English if you just want to customize rather than translate.
With the workbench enabled you can now edit the Custom Labels.
Edit Custom Labels
Go to the Setup screen and type Custom Labels in the Quick Find box and select it.
Click any of the labels prefixed with LEDQ, not the Edit button next to them.
In the Local Translations / Overrides section at the bottom of the page, click the New Local Translations / Overrides button.
Under Translation Information select your chosen language, enter the required Translation Text and click Save.

Delay in updates appearing
The below example illustrates changing the displayed name for Spain: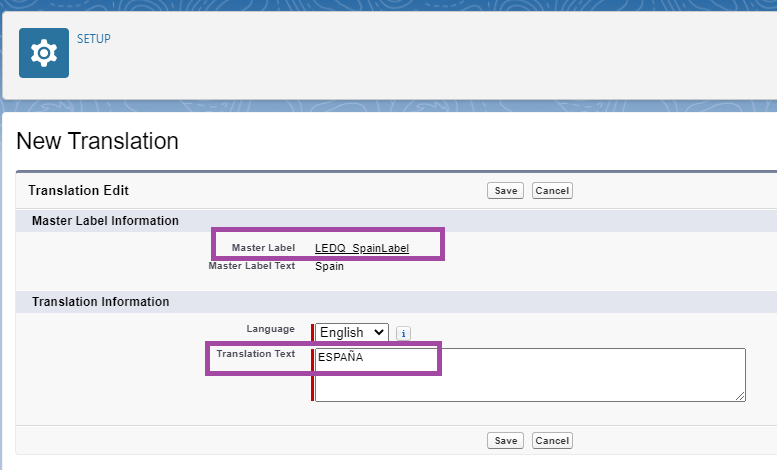 You now need to use the value used above, "ESPAÑA", in the Integration Value field for Spain in LEDQ Countries (under Custom Metadata Types). This Spain example is continued here: Country Custom Metadata Type and illustrates where this would need to be added.