When you submit a Job to Clean, a new entry appears in the Job History. You will receive an email once the Job is complete; if your Job is marked as Ready for download or Download complete, follow the link to view detailed information on the Results page.
Results summary
The Job Summary pane contains a visual summary of your results, and the statistics of your Clean broken down by Match Profile or Result. The example below breaks down the results of an address clean: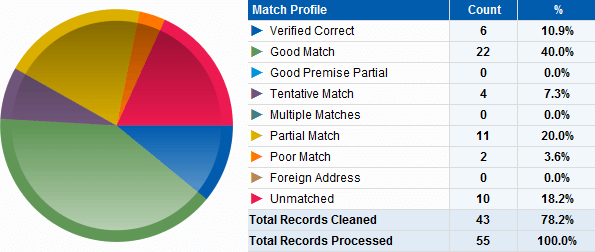 This information appears in more detail in the Clean Summary Report.
Files available for download
To download your Cleaned Address File (the .csv file containing the results of your Job), select the Cleaned Address File button.
The Cleaned Address File will be downloaded to your computer, and will contain the fields you previewed during the Output stage.
To download reports (in .pdf format), select the relevant Report button.
Reports will be downloaded to your computer, and correspond to the reports you requested during the Output stage.